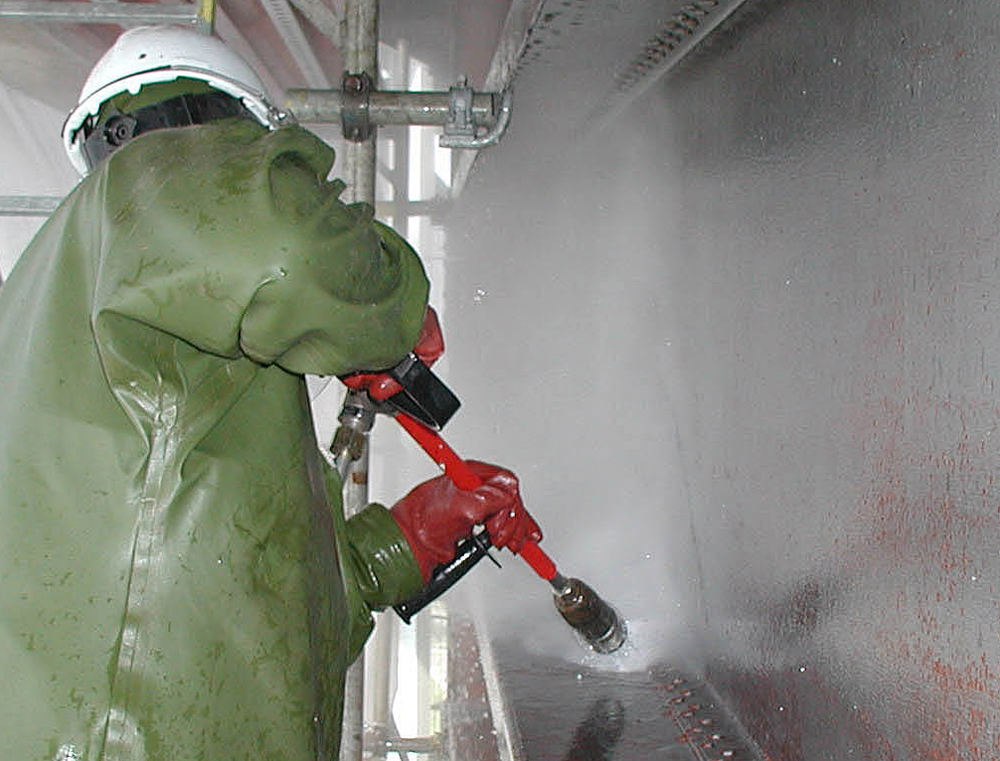 Our stationary units provide innovative solutions for industrial cleaning and acid etching needs for the Architectural Precast and GFRC industries. Current practices for these spaces are messy, time-intensive, and not always the most thorough solution for maintaining sanitization or maintaining consistency when etching materials.
A high-pressure washing with chemicals has been used for years within the industrial cleaning space, however, the currently available systems are still missing a key component. Our systems provide a consistent flow of heat, high-pressure water, and chemical applications to rapidly clean your facility and equipment. This can mean less downtime for your operation.
For Architectural Precast and GFRC etching, acid etching and sandblasting have largely been used as the primary applications for finishing products. Similarly, our systems also expedite these processes in a cleaner and safer fashion than existing processes. Below you will find our Stationary Cleaning Options to fit your needs.
Stationary Cleaning Unit Info
Formerly models K-30004 & K-3008. The same great technology and performance found in our mobile units adapted for use in permanent etching areas.
Applications
Precast Concrete Etching
Cleaning brick faced panel removing retarder from exposed aggregate panels.
Cleaning Forms, Mixers, other Equipment
…all other traditional pressure washer applications
Features
Acid Induction - Controlled Introduction of Chemical into High Pressure Water Stream - No Other Machine Does This!
Acid system can draw and use chemical directly from a tote or carboy - whatever container you buy the chemicals in. Big improvement in safety. Eliminates chemical handling time and expense.
Designed for fixed installation near the etching area
Low maintenance electric motor powers the pump
Choice of natural gas or liquid propane burners eliminates burner fueling, while cutting down energy cost. Diesel fuel burner also available.
Modular for installation flexibility
Same safety features and heavy duty components, materials and construction as our mobile machines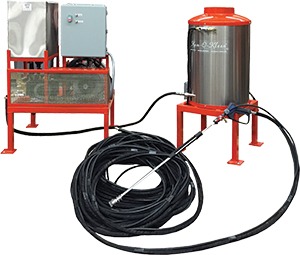 Specifications
SK4

SK8

H

ot

 Water

100° F Pick-up over ambient
100° F Pick-up over ambient

Operating Pressure/Flow

3000 psi/3.9 gpm
3000 psi/up to 8 gpm

Electric Motor (Choice of Voltage, Phases)

10 Hp
15 Hp

Chemical Supply

Patented System
Patented System
Draws directly from supplier's tote/tank
Draws directly from supplier's tote/tank

Hose

100 Feet, Heavy Duty Full Wrap, Chem. Resistant
200 Feet, Super Duty Full Jacket/Wrap Chem. Resistant

Burner Potential

330,000 BTU
450,000 BTU

Weight

650 Pounds
700 Pounds

Dimensions (Pump Unit)

38" x 23" x 48"
38" x 23" x 48"

Dimensions (Water Heater)

18" x 18" x 40.5"
20" x 20" x 48"
Call 800-274-4121 or click here for more information.