Building Restoration is a crucial process to maintaining historically significant structures and common practices for these types of jobs are inefficient, unsafe, and hard labor for workers to complete. The days of using sponges, rubber gloves, and a bucket full of harmful chemicals to restore buildings are over.
Unique Industries provides innovative stationary cleaning units that can expedite your workload while making each job safer. With the combination of heat, high-pressure water, and chemical applications – our systems will save you time, money, and energy on each job you complete.
Below, you can learn more about the features and functions of our mobile cleaning unit. Join other building restoration professionals in advancing the industry while scaling your capabilities with improved cleaning processes.
We have provided a sample photo to show the capabilities of our systems with only a few passes. What could normally take an hour or require multiple cleaning stages can be removed in minutes.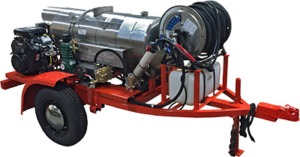 Formerly model K-3003. For ornamental or pre-casters doing smaller pieces, the MK3 delivers solid performance and high productivity. Intricate castings are no problem - the ability to etch quickly with a powered spray eliminates the pooling, over-etching/under-etching common to other methods. Applications Precast Concrete Etching Cleaning brick faced panel removing ...
Read More