With the Kem-O-Kleen line of mobile masonry cleaners, we've finally brought innovation to the building restoration and masonry cleaning industries. Before, your masonry cleaning options were limited in their scope and versatility, but with our new line of masonry pressure washers, we're able to provide a different style of mobile cleaning unit for each client - each unit serving their specific needs. From large jobs to small, and higher productivity to better cost-effectiveness, you're guaranteed to find the best masonry cleaner for you with Kem-O-Kleen.
We've made the long, arduous act of scrubbing surfaces with sponges whilst directly handling harsh chemicals obsolete. With our new cleaning systems, operators can clean surfaces effortlessly and easily from a distance - something unimaginable years prior. This distance between operator and chemicals also means the risk of chemical damage to the skin is minimized. With Kem-O-Kleen, you can clean more surfaces, with better safety, in a far shorter amount of time.
Versatility is the name of the game with Kem-O-Kleen. One of our main goals with our line of masonry cleaners is to give you unprecedented choice and flexibility in your cleaner, and to that end we've given our cleaners a large degree of customizability. Pick between a diesel or gasoline engine for your cleaner, then effortlessly tool the pressure, heat, and chemical concentration settings on the fly as you clean. This flexibility in how you clean means you can clean in many more, much more efficient ways than before. Tool the pressure, heat, and concentration to perfectly match the job, in contrast to other cleaners which may only have one single setting.
From our smallest system, that provides the best portability and offers a very affordable cleaning option, to our higher-power solutions, which handles larger restoration and cleaning jobs with ease, we've got your cleaning needs covered.
Mobile Cleaning Unit Models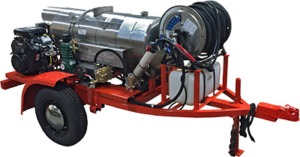 Formerly model K-3003. For ornamental or pre-casters doing smaller pieces, the MK3 delivers solid performance and high productivity. Intricate castings are no problem - the ability to etch quickly with a powered spray eliminates the pooling, over-etching/under-etching common to other methods. Applications Precast Concrete Etching Cleaning brick faced panel removing ...
Formerly model K-3007. The high powered gasoline or diesel engine provides ample flow of hot water and chemical combined at pressure for a very rapid, high quality etch. Our patented Chemical Induction System is the only method that delivers this level of performance. Applications Precast Concrete Etching Cleaning brick faced ...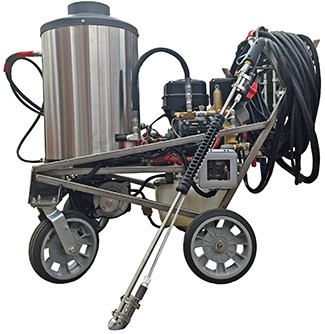 The stainless steel cart mounted F-30 is great for smaller jobs. Very portable, very durable, very affordable. Experience has shown the pressure/flow rates at which the water and chemical systems are set generate optimum results under most circumstances. Adjustment of either is easy when unusual situations are encountered. Regardless of the situation, the ...