The World's Best Precast Concrete Etching Systems
There is no better finish for concrete than acid etching. Acid etching sparkles compared to the dull aggregate of sand-blasting and say goodbye to silica dust, wormholes, efflorescence, and other issues. And there is no better way to acid etch than with a Kem-O-Kleen.
That's why there are Kem-O-Kleen systems in place at 70%+ of the nation's largest architectural precastors and FRC locations. Multiple unit installations, strong repeat purchases, and our specialized experience are further testimony to the product's effectiveness.
Cut etching time to less than half that of traditional methods – quick pay-back on investment.

Thorough, consistent etching – very effective on detail where acid can pool or miss coverage using traditional methods
Use less chemical to do the job – designed for muriatic acid
Better finish – aggregate not dulled as with sandblasting
Precise control of chemical quantity applied
Rugged durable construction – designed for the job site
200' of full jacket hose – covers plenty of areas
A variety of models to fit all applications and budgets
High volume operators prefer the power of the MK7 and SK8 to keep production moving. Ornamental, FRC and smaller panel plants often select the smaller output of the MK3 and SK4 for their great etch. We are proud to have played a role in the many awards our customers have earned over the years.
Enhancing concrete finish with a concrete etching machine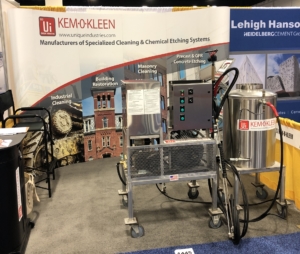 In precast concrete finishes, acid etching is commonly applied to structures that have light to medium exposure. Acid etching removes the surface of the concrete and exposes the fine and coarse aggregate underneath by using a dilute hydrochloric acid solution. 
In addition to removing years of sediment, acid etching also gives a structure a brand new look by eliminating years of deposit. Concrete with acid-etched surfaces weathers better than concrete with form lines.
Concrete etching produces a fine, sandy surface similar to limestone or sandstone, with the cement paste and sand being the dominant elements visible on the surface.
Unlike unfinished building materials, acid etches concrete has a unique yet natural appearance for building exteriors that meet today's trends. The quality of the mold used to produce precast is essential to ensuring that this surface will have a limited number of voids.
A precast plant may achieve an etched finish by soaking the element in a solution of acid and then scrubbing it to remove the outer skin about a week after removing it from the mold.
Precast concrete elements that are etched, prevent chloride from infiltrating the reinforcement due to the advanced manufacturing techniques. Acid etching w/KOH can be performed very quickly after the elements are removed from the mold. Consistency is important., try to etch all panels around the same time, post-mold removal.